GSO Organizes Training Program on the Standards of Solar Cells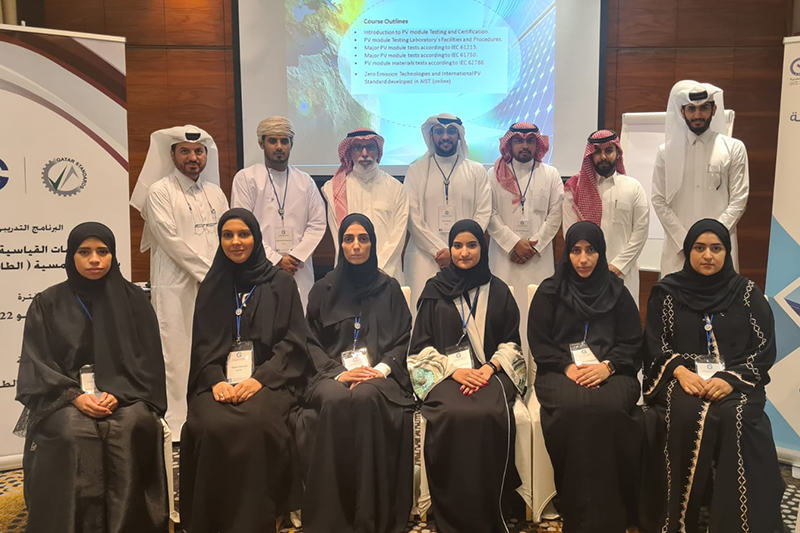 The GCC Standardization Organization for the Cooperation Council of the Arab States of the Gulf (GSO) has organized a training program on the standards of solar cells (renewable energy), hosted by the Qatar General Organization for Standardization, State of Qatar, (23-25 May 2022). This program falls within the framework of the Training Programs of the Gulf Standardization Training Center for 2022.
The training program aimed to enhance the technical expertise of the specialists and those interested in preparing and implementing standards for renewable energy and its storage techniques, in addition to enhance the participation of the relevant stakeholders in the activities of the national and Gulf standards technical committees entrusted with preparing standards, and harmonizing the published Gulf standards with the updated versions of international standards in the field of renewable energy, in addition to acquainting the participants in the training program with the concept of renewable energy and its most important sources and characteristics, as well as a comparison between the standards for renewable energy and its storage techniques.
Participants in the program encompassed specialists from the Gulf Cooperation Council countries represented by members of the Gulf Technical Committee for Renewable Energy Standards and Storage Techniques, members of the corresponding national technical committees in the member states specialized in preparing and implementing standards in the field of renewable energy, and specialists in laboratories concerned with testing solar panels in government and private agencies interested in renewable energy.
At the conclusion of the training program, the participants conducted a field visit to one of the most important renewable energy projects in the State of Qatar, with the aim of introducing them to a successful model and experience in the field of renewable energy generation and storage technologies.